Discovery: Sand Dunes - Fishing Village - Hon Rom Beach (Mui Ne-Phan Thiet)
Mui Ne, Phan Thiet is famous for its stretches of white sand, blue sea and curving coconut trees. Visitors can come to Mui Ne all year round, each season "sea paradise" brings a different beauty, places to play, enjoy fresh seafood dishes of this extremely beautiful coastal land.
Sand Dunes Bay Mui Ne
Located in Quarter 5, Mui Ne Ward, Phan Thiet City. Sand dunes are formed from a long time ago, stretching over a wide area, with a total area of ​​nearly 50 hectares. The sand here has many colors, mainly the colors: yellow, ivory white, dark red, light red ... mixed to look beautiful.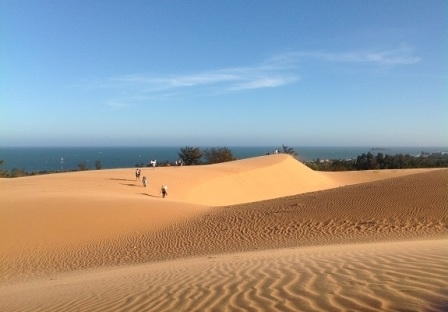 Mui Ne sand dunes are a unique poetic desert in Vietnam that has been recorded by the Book Center. This place is also known as Sand Dunes because the shape of the sand dunes often changes, changes shape, creating extremely attractive geographic forms, attracting and always leaving a good impression for visitors. If you are in the West, you will be entertained by snowboarding while in Vietnam, you can windsurf on the sand, a unique sport only available in Binh Thuan. From the sand hill, visitors can see the panoramic view of Mui Ne covered by a vast blue of the sea mixed with the yellow color of the sand under the dazzling sun, creating a charming, wild style. Simple and poetic makes visitors feel like flying in the middle of nature.
Therefore, Mui Ne Sand Dunes are an invaluable gift that nature has bestowed on their homeland of Binh Thuan. Over the years, this place has become an attractive destination for domestic and foreign tourists. Not only that, it is also an art topic, inspiring many photographers
Fishing village of Mui Ne
Located on Phan Thiet - Mui Ne street, this is an interesting stopover for those who want to learn and immerse themselves in the daily activities of fishermen here. From the highway, visitors can see the fishing village hidden behind the green coconut groves, somewhere a few small baskets with paddles and some unfinished fishing nets lying on the white sand. Want to see firsthand the bustling scene of the early morning fish market, visitors must be present from 4am - 5am. Nothing is more interesting than that, visitors will buy a few kilograms of fresh seafood at very low prices for meals such as squid, squid, lobster, mackerel, and scallops ...
If you have the opportunity to walk deep into the fishing village, visitors will see how meticulous the process of drying fish, squid and fish sauce is. In addition, visitors are also welcomed with fresh, sweet coconuts like the gentle smiles and hospitable hearts of the fishermen here.
Hon Rom beach
It is a beautiful, arc-shaped beach, with smooth white sand and clear blue sea water. Especially Hon Rom - Mui Ne beach is a familiar address of domestic and international tourists, interesting vacation from the past years. Coming to Hon Rom - Mui Ne, in addition to soaking in the clear blue water, there are also outdoor activities on the sea, joining the ocean adventure, enjoying fresh seafood dishes from the sea visit famous landscapes bestowed by nature such as Bay Sand Dunes...
https://dulich.petrotimes.vn
Binh Thuan Tourism Promotion Center
Van Anh