Quang Binh promotes tourism in early 2021
In 2020, the Covid-19 epidemic and the successive historical floods have made the tourism industry almost "paralyzed". Up to now, the epidemic disease situation is still happening very complicatedly, making a great impact on the tourism demand of people. Facing that challenge, the Quang Binh tourism industry is trying hard to connect and strengthen promotion and promotion to soon bring the tourism activities back to stability.
Determining the goal in the coming years is to attract domestic tourists, the Quang Binh tourism industry continues to carry out destination introduction programs in key markets and neighboring provinces; to continue implementing the tourism demand stimulus program. Focus on diversifying products of resort tourism, ecology, historical culture and community based tourism, gradually reducing the seasonality which has been defaulted for a long time. Building stimulus packages that are price-attractive but still ensure the quality and brand of the destination. In particular, to reduce the entrance fees for all tourism products in the province, with the commitment to "reduce prices in parallel with improving quality", ensure safety for tourists, and ensure Covid epidemic prevention. -19.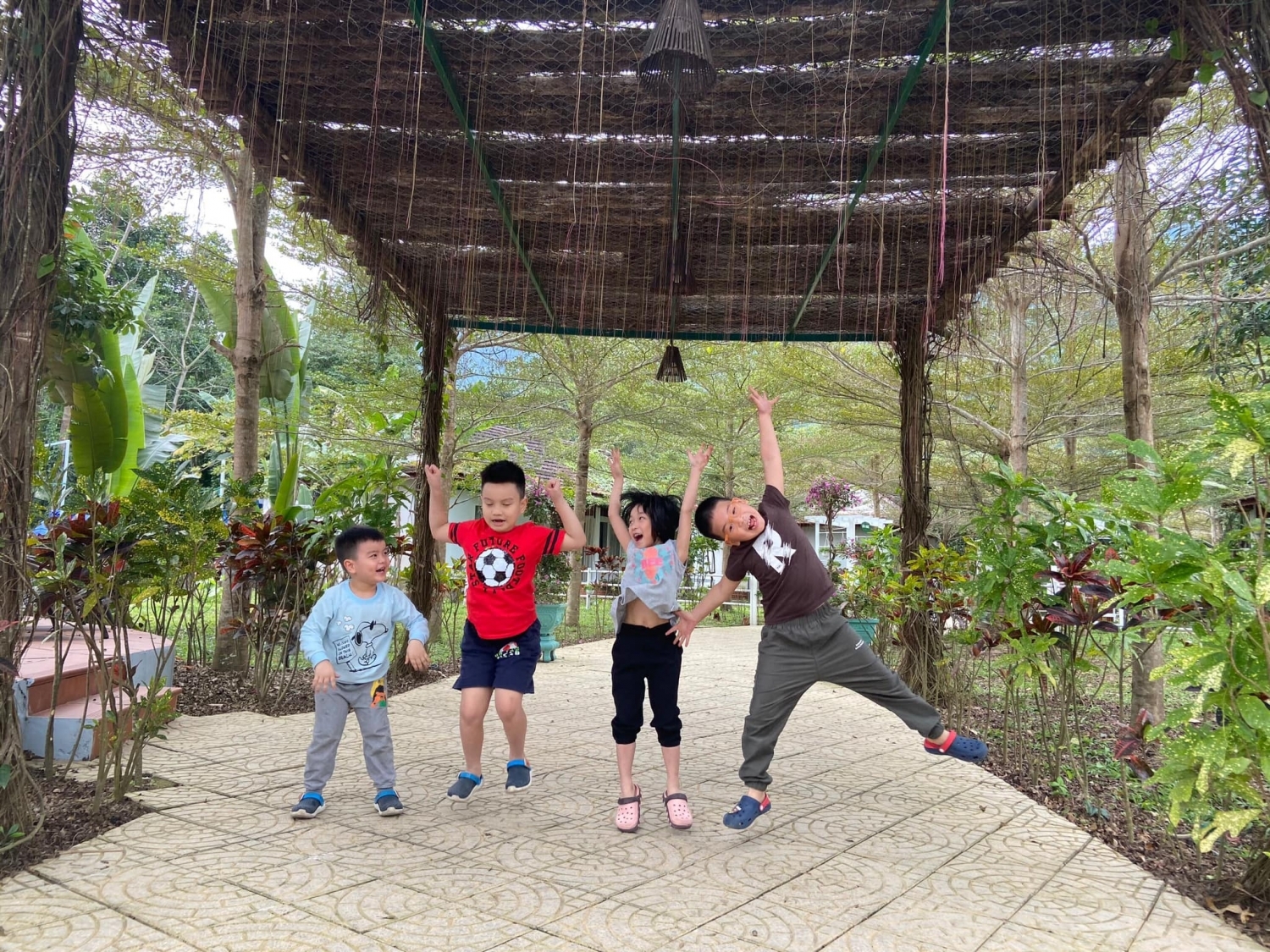 Chay Lap Farmstay/ https://dulich.petrotimes.vn
In addition, to overcome difficulties and focus on growth, promote communication on digital platforms, promote a safe, attractive and differentiated destination to create a competitive advantage to attract tourists, Quang Binh Department of Tourism has cooperated with Google to deploy collaborative content promoting on Google Art and Culture through the project "Wonders of Vietnam".
In the first days of the new year 2021, thousands of tourists flocked to Phong Nha-Ke Bang area, many tours and tourist routes began to attract tourists again. After a period of sickness because of the epidemic, the land known as "Cave Kingdom" began to become more crowded and bustling. Tourism has shown hopeful green signals.
Besides, according to information from the Quang Binh Department of Tourism, according to the results of the annual Traveler Review Awards 2020 announced by Booking.com, Phong Nha topped the list of "Most Hospitable Places" in Vietnam, Besides the standard most appreciated by travelers is the quality of staff at the properties they stay. These include Chay Lap Farmstay, which attracts a lot of tourists by its unique design combining natural resort space and modern facilities, with many fun activities and entertainment. interesting .. In addition, Phong Nha - Ke Bang National Park is also ranked 15th in the world for national parks, which are more and more popular among tourists during Covid-19 voted by Tripadvisor.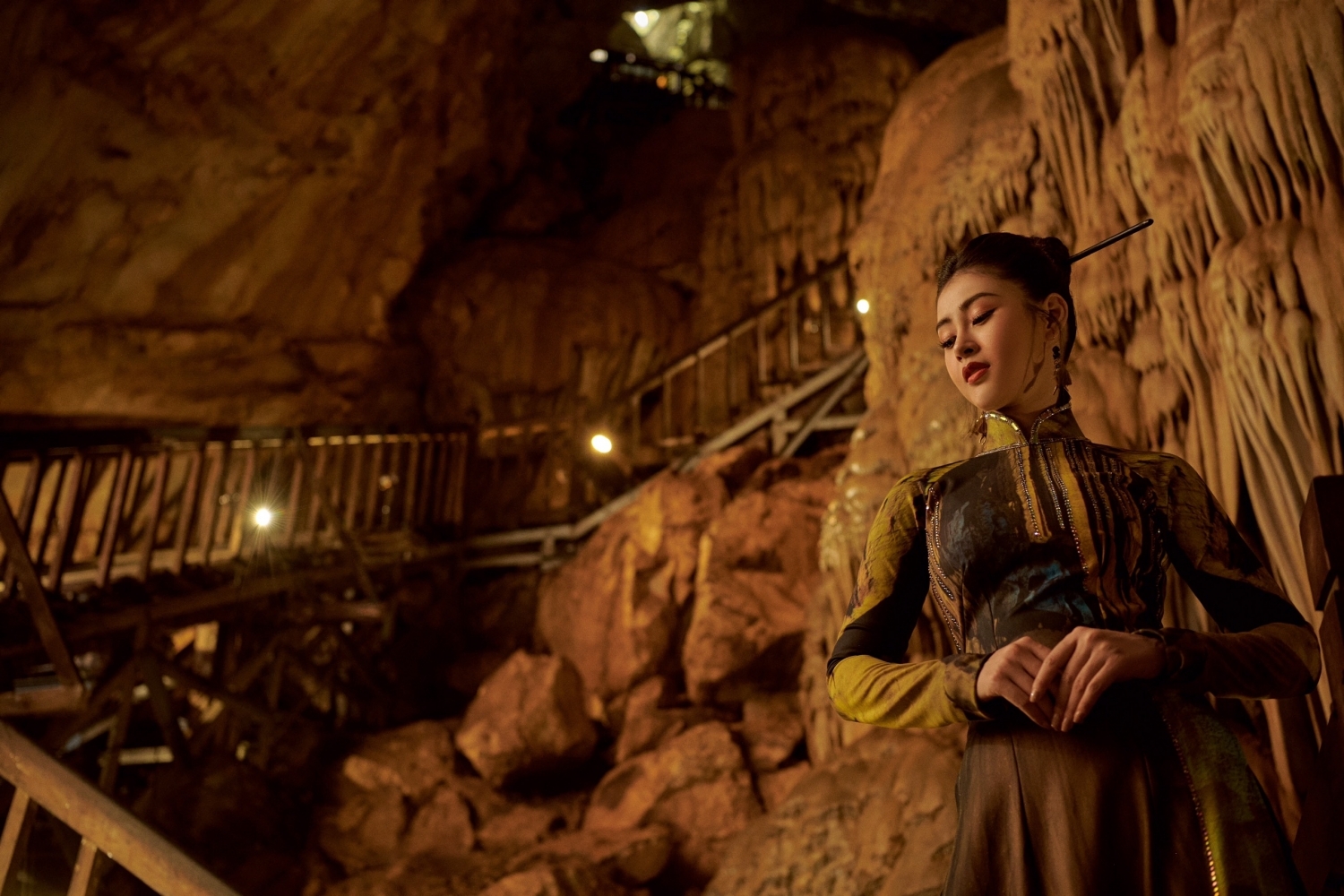 Runner Ly Kim Thao The design of designer Nhat Dung is inspired by Thien Duong Cave/ https://dulich.petrotimes.vn
Recently, Ao Dai designer Nhat Dung and runner Ly Kim Thao have chosen famous tourist destinations, notably Thien Duong cave and Sun Spa Resort to make their Ao Dai photos to promote Quang Binh tourism to with a large number of tourists through Heritage Magazine (used on the flights of the National Airlines Viet Nam Airline). The costumes shown this time also bear the imprint of the natural heritages of the sunny and windy land. Designer Nhat Dung said: "The landscapes bearing the wild and majestic natural beauty of Quang Binh are always the inspiration for him to create his unique Ao Dai collections."
With relentless efforts to overcome difficulties and good signs in recent years, Quang Binh Tourism industry will have more motivation to calm down towards an optimistic 2021.
Luong Cong Thanh
https://dulich.petrotimes.vn