Ben Tre: Focusing on building a tourism Coconut land
Ben Tre province is determined to focus on shaping for itself a unique and outstanding product to create its own brand every time tourists visit this place.
Enterprises focus on capturing advantages from the indigenous resources of the three islet ranges, and at the same time pay attention to investing in upgrading and expanding, gradually forming many types and tourism products with their own characteristics. of the river and garden of the Coconut land.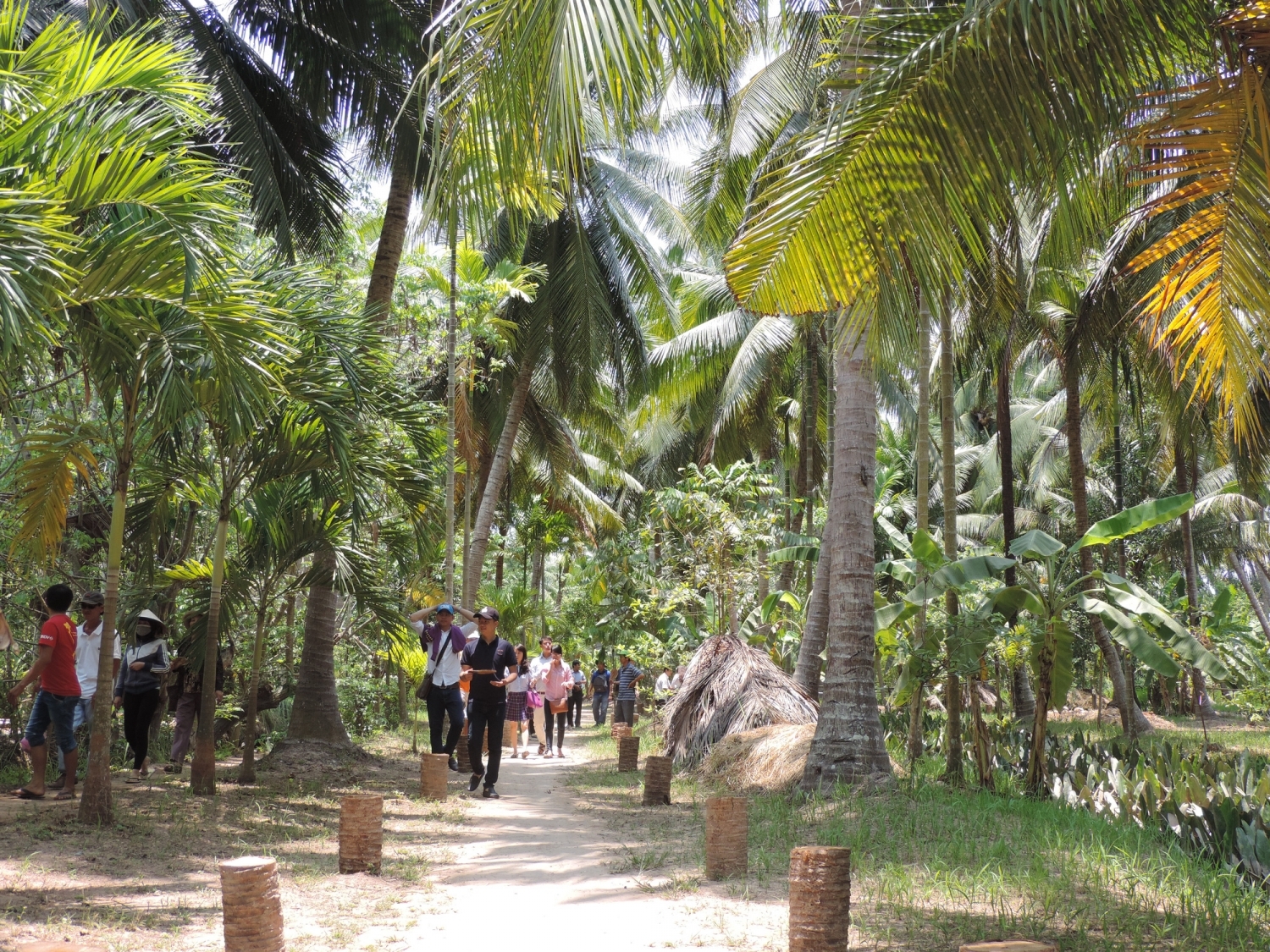 Visitors to Ben Tre experience unique coconut gardens/Photos from internet source
Not outside of the "general formula" of the tourism development trend, in Ben Tre, each tourism unit and business has been shaping for themselves a unique and outstanding product to create a brand name. private brand.
Ms. Tran Thi Hai Van, General Director of Ben Tre Riverside Resort, said that in addition to the province's first 4-star resort business, the unit actively forms a unique experience tourist destination suitable for all ages above. The journey of tourists down the Mekong River to the land of Coconuts.
Ms. Van also added that, located right on the cool Ham Luong River, with 20ha, Riverside Garden has built a place to grow fruit trees - green agricultural products serving the Resort restaurant. In particular, based on the available potentials, Riverside Garden adds landscapes and services suitable for all ages but still retains the natural beauty to help visitors enjoy the fresh air. The unit's criterion is to build a package tourism product so that visitors can both relax, admire the scenery and experience the cultural cuisine of the Ben Tre people.
Like a green oasis on the Tien River, Con Phung garden tourist area in Tan Thach commune, Chau Thanh district has become an attractive destination for domestic and foreign tourists. Mr. Phan Van Thong, Director of Phung Dunes Tourist Area, said that this place attracts tourists from near and far because it still preserves the original many unique architectures such as Nine Dragon yard, Hoa Binh tower... for more than 50 years. Year Built. In addition, tourists have the opportunity to understand more about the people, life and culture of coconut at the Coconut Museum - a house made entirely from coconut trees and also a place to display many products made from coconut. Currently, the eco-tourism area is being invested in upgrading restaurants, hotels, entertainment centers, zoos, craft villages, restoring the Dao Dua architectural complex to attract more tourists.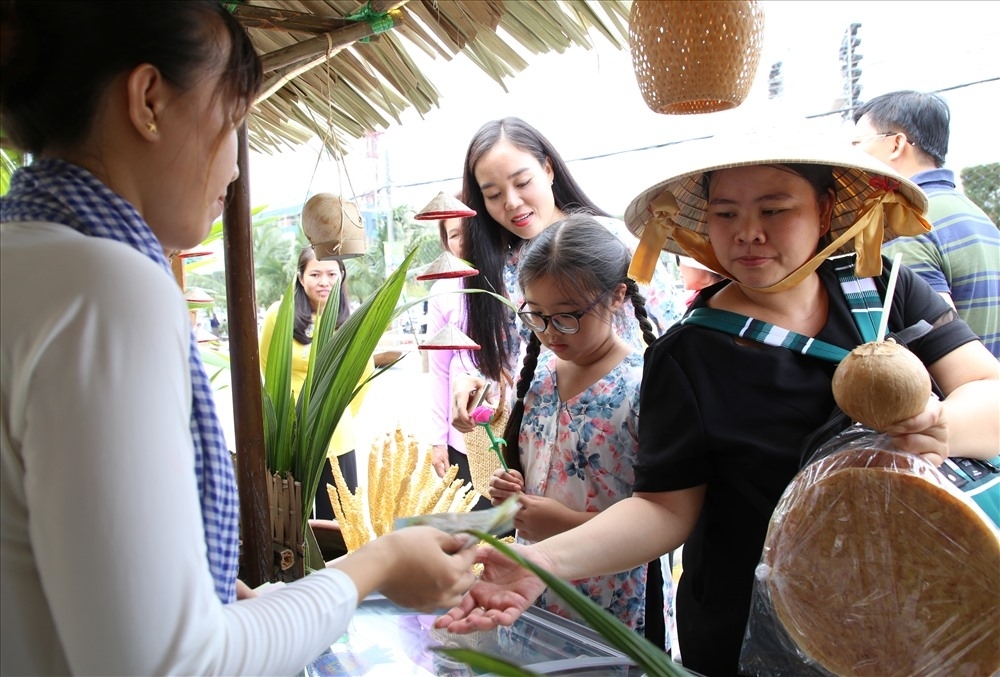 Fair to promote Ben Tre specialties to domestic and international friends when visiting Ben Tre/Artwork
According to Mr. Phan Van Thong, the highlight of the tourism journey to Phung islet is that visitors experience the feeling of sitting on a boat to visit the big dunes, listen to the singing of Don Ca Tai Tu and enjoy the specialties of the West. The connection to coconut candy production facilities - a traditional product of Ben Tre helps visitors better understand the candy production process of the indigenous people from preparation, cooking, candy rolling, cutting and packaging as well as Handicraft products from coconut body, fruit, and shell are made by skillful hands of artisans…
Based on the statistics of the Department of Agriculture and Rural Development of Ben Tre, the province currently has 57 craft villages (including 39 agricultural villages) that have been decided to recognize by the Provincial People's Committee. Craft villages are interested in exploiting to serve tourists such as: Production of seedlings, ornamental flowers, processing of dried fish, cooking wine, making coconut candy, rice paper, puff pastry... In addition, The One Commune One Product Program (OCOP) with many products is the strength of the province such as green-skinned pomelo, durian, rambutan, longan, dried fruit, honey, dried shrimp, dried fish, wine... special especially products made from coconut (coconut candy, desiccated coconut, coconut milk, coconut colored water, cosmetics from coconut...) have received attention and welcome from visitors. The type of homestay tourism in Ben Tre quite attracts tourists to relax and experience, especially foreign tourists.
Director of Ben Tre Department of Agriculture and Rural Development, Mr. Doan Van Danh, said that agricultural production activities associated with community-based tourism contribute to economic restructuring, support the construction of new rural areas and improve the quality of life. high value agricultural products. The enjoyment of specialty fruits, rustic dishes or practical farming experiences right at the tourist destination brings excitement and excitement to visitors, from which agricultural products are consumed locally and at high prices. than selling to traders. Not only sightseeing activities, accompanying services also help create jobs and increase income for people. Agricultural tourism also contributes to preserving and promoting the traditional cultural values ​​of the locality; conservation of biodiversity and natural resources. This is also an effective solution to raise the awareness of environmental protection of the community and visitors.
Ms. Nguyen Thi Ngoc Dung, Deputy Director of the Department of Culture, Sports and Tourism of Ben Tre province, said that with the goal of applying information and communication technology to build an ecosystem of tourism products in the province, Ben Tre province Bamboo has applied 4.0 technology in developing smart tourism in the locality.
Thereby, making the management more convenient, improving the quality of tourist services, promoting sustainable socio-economic development, creating mutual benefits between tourists, authorities and businesses.
Specifically, Ben Tre has put into use the website https://bentretourism.vn, which is supported in two languages ​​Vietnamese - English and integrated on the platform of social networks to introduce and promote the tourism potential and strengths of the province. conscious; information on cultural history, scenic spots. In addition, fully and timely provide tourism activities, outstanding events of the province, update official information on the quality and price of tourism services in the province (such as accommodation services, travel services, etc.) transportation, dining, shopping, entertainment, entertainment, health care, retail stores, vending machines and other services to tourists).
The portal provides an electronic handbook, consulting tourist information based on the feature of automatically determining the location through positioning, consulting the route schedule, suggesting places to eat, hotels, services, banks. goods, healthcare, means of transportation and 3D maps in the province. From here, opening up opportunities for Ben Tre tourism to be accessed by all people through electronic information sites and smartphones, contributing to turning the "smokeless industry" of Ben Tre into a spearhead economic sector. .
In the coming time, the province will continue to focus on implementing many solutions to restore tourism activities such as: Strengthening communication, introducing and promoting Ben Tre as a safe - friendly - quality destination; promoting tourism cooperation and association programs with provinces and cities across the country, especially linking and developing tourism between Ho Chi Minh City and 13 provinces and cities in the Mekong Delta; encourage tourism units in the area to pay attention to invest in new construction, embellishment and upgrading of material and technical facilities; research and develop more new, rich and attractive tourism programs, products and services, bearing the characteristics of tourism in the green coconut land; Paying attention to training and fostering to improve the quality of the staff serving customers…
According to Ms. Ho Thi Hoang Yen, Standing Deputy Secretary of the Ben Tre Provincial Party Committee, to achieve the goal of "Developing tourism to become a spearhead economic sector of the province by 2030" in the spirit of Resolution No. 08-NQ/TW Politburo and Resolution of the 11th Ben Tre Provincial Party Congress, term 2020 - 2025, proactively integrating into the international economy, in the coming time, all levels, branches and the whole political system need to focus pay attention to building and developing human resources to create a "motivation" for the "strong" and "fast" development of the spearhead economic sector.
To do so, it is necessary to strengthen the training and retraining for State management staff from the province to the grassroots level in terms of expertise, expertise, political theory, etc. to ensure quantity and quality, qualified, meet job position requirements. Along with that is regularly opening refresher courses to improve vocational skills, foreign languages, informatics... for the workforce at establishments, tourism business enterprises as well as increasing the opening of training courses for people and the community about communication skills, behavior, awareness of environmental protection...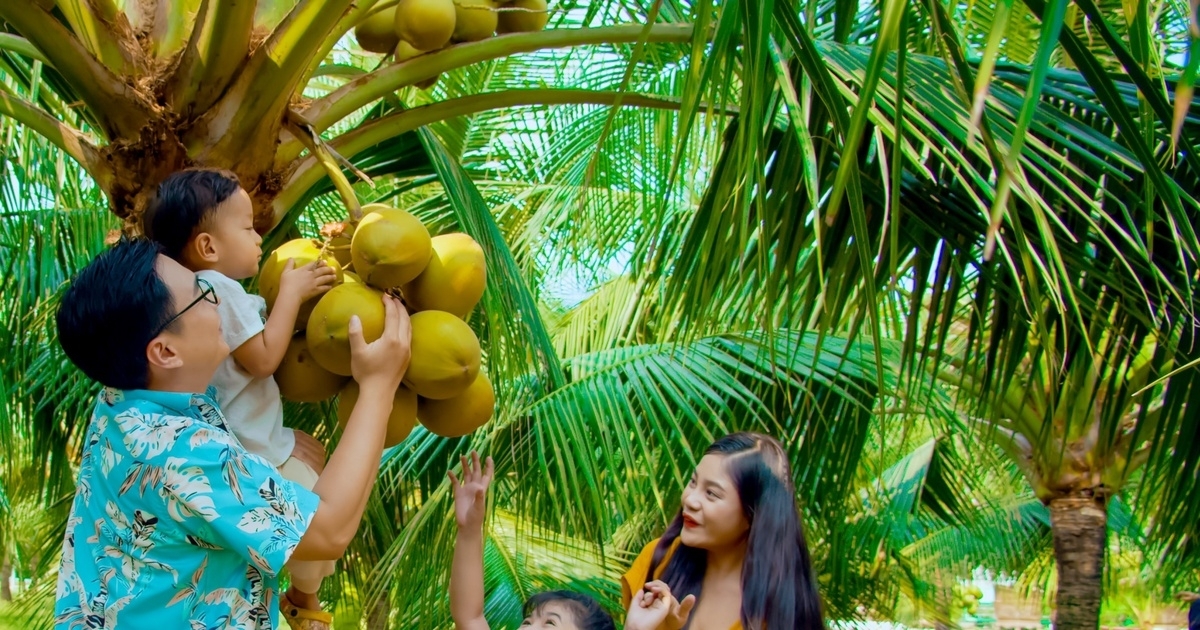 Visitors experience coconut picking in the garden with their family and loved ones/Illustration photo
According to Standing Deputy Secretary of the Ben Tre Provincial Party Committee, it is necessary to have mechanisms and policies to attract high-quality tourism human resources who are properly trained in tourism majors to work at state agencies and business units. tourism business. Especially, we have selected a team of cadres who have the heart, vision, moral qualities, capacity, prestige of leadership and management with quality and efficiency in the field of tourism, with remuneration mechanisms and policies, reasonable rewards.
Ms. Ho Thi Hoang Yen emphasized that, in addition to planning and exploiting tourism resources well, focusing on investment in human resources is one of the urgent requirements today. Since then, building a sustainable tourism brand of Coconut, competing well with localities, successfully realizing the goal of developing tourism into a spearhead economic sector of the province by 2030.
Van Anh
dulich.petrotimes.vn
Chuyên trang du lịch rất mong nhận được bài viết, hình ảnh của bạn đọc. Xin vui lòng gửi về: dulich.petrotimes@gmail.com